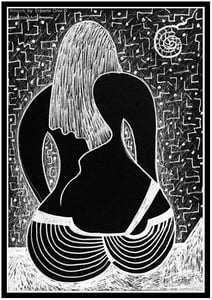 $

500.00
Define your STYLE with your ART
Painting and drawings
Artist: Eriberto Oriol
Sotheby Auction House in New York, Director of Contemporary
bought two of Eriberto's artwork. Eriberto's has also garnered the
attention from Taschen Publisher, Juxtapoz Magazine and William
Wilson art critic for the L A times.
Has published globally, including Juxtapoz and Warp Japan, along with the Los Angeles Times, LA Weekly and The San Francisco Chronicle, just to name a few. He continues to live and work in what he now considers his hometown, L.A.
Digital Prints on Archival paper. All originally prints signed by artist, Limited Edition of 25
FRAMING: not included.
Prints fit a standard 16" x 20" or a 20" x 20" frame including borders and size of image depends on image and cropping.